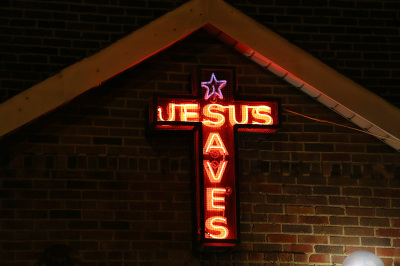 Hebrews 2:3 says, "How shall we escape if we neglect such great salvation?
The Greek word for neglect ("having neglected" in its original Greek tense) is "amelēsantes". It means to pay no attention to, to laugh at, or to be careless.
Many Christians, including Evangelicals, have become accustomed to neglecting the basics of faith, thus operating under the dangerous assumption that their salvation is always an established fact despite how they live. However, this is not the teaching of the original apostles who wrote the sacred text. Even St. Peter urged believers to secure their calling and election (2 Peter 1:10).
Here are seven ways we can neglect our salvation:
1. Sporadic Church Attendance
When I first came to Christ in the late 1970s, committed Christians rarely missed Sunday services. Then, about two decades ago, committed Christians came to church about three times a month. Then about 14-15 years ago so-called committed Christians started coming to church once or twice a month or less. Around 2008, our church attendance dropped about 25%. I thought a lot of people were leaving our church, but when I arrived I was shocked to find that we weren't losing members but coming to church less often.
The Hebrew Christian writer warned us not to neglect church meetings but to exhort one another daily lest our hearts be hardened (Hebrews 3:12-13; Hebrews 10:25).
Lack of frequent fellowship and mutual warnings is related to the hardening of the heart resulting in the neglect of one's salvation (Hebrews 10:26).
2. No responsibility in our life
The book of Hebrews urges us to urge one another daily, which means believers cannot just go to church on Sunday and think that is enough (Hebrews 3:13). The early church met daily in the temple as well as from house to house (Acts 2:46).
Therefore, we all need close relationships with mature Christians who will hold us accountable to biblical standards and encourage us to seek God and pursue our divine mission.
We neglect our salvation when we refuse to allow ourselves to be accountable to mature believers.
3. Be guided by each new trend
Over the past few years, many sincere Christians have been distracted by conspiracy theories such as QAnon, new teachings, numerous failed prophetic statements, etc. St. Peter instructed the church to thirst for pure spiritual milk in order to grow (1 Peter 2:2). Satan tempts the saints by leading them away from sincere devotion to Christ (2 Corinthians 11:3).
When we stop feeding on the word of God, we hinder our spiritual growth. This is why St. Paul urged Timothy to keep his faith sincere with a pure heart and to avoid speculation, conspiracy theories, myths, and anything that promotes questions over faith (2 Timothy 1:6). Unfortunately, many have strayed from the truth because their focus was not on the gospel (1 Timothy 1:6).
I once spoke to a Christian obsessed with COVID-related conspiracy theories, and he wanted me to spend hours discussing it with him. After several minutes on the phone, I asked him, "How many people do you win to Christ, and disciple anyone?" He was silent on the phone for a moment, then replied, "No." I told him to focus on that and forget the conspiracy theories.
We could be neglecting our salvation by continually chasing every conspiracy theory and latest groundbreaking teaching. (By new teaching, I refer to that which has not been taught before in the historic church or cited as heretical in any of the major ecumenical councils.)
4. Not participating in the collective exposition of the scriptures in the church
The Bible teaches us the importance of constantly sitting under the preaching and teaching of the word of God. Saint Paul said, "Faith comes by hearing and hearing by the word of God", which means that our posture of lifelong learning under the guidance of anointed teachers should never be stop (Romans 10:17).
When a believer ceases to be fed by mature, dependable shepherds called to feed God's flock, he is neglecting his salvation. Also, Peter said we should be fed by our shepherd (1 Peter 5:2). Therefore, it does not refer to listening to random preachers, but to sitting under those who are called to make disciples and speak in our lives so that we can align ourselves with our divine mission.
We neglect our salvation when we seldom sit under the corporate teaching and preaching of our local church.
5. Not Pursuing Biblical Discipleship
Each person is called to be disciple and to make disciples. St. Paul urged Timothy to focus on pouring out faithful men who can teach others (2 Timothy 2:2). Jesus presented a process of discipleship that included initiation into the Body of Christ through water baptism followed by learning the teachings of faith (Matthew 28:19-20). Anyone who converted to the early church was instructed in the doctrine of the Apostles (Acts 2:42, Hebrews 5:12-6:3).
By refusing to be biblical disciple, we neglect our salvation.
6. Not pursuing the Lord and seeking his kingdom first.
St. Paul asked Timothy to shun the lusts of youth and seek faith, love and peace with those who call on the Lord out of a pure heart (2 Timothy 2:22). As a shepherd since the early 1980s, I have seen that not everyone who is a church member seeks His kingdom first with a pure heart. Jesus said the great commandment includes loving God with all your heart and loving your neighbor as yourself (Matthew 22:37-40).
When we refuse to seek his kingdom first, we are neglecting our salvation (Matthew 6:33).
7. Harden our hearts because of trials and tribulations
The scriptures make it clear that God allows trials to test our faith so it can come forth as pure gold (1 Peter 1:7). Trials and tests can either make us better or make us bitter. According to the teachings of Jesus, those who harden their hearts because of worldly difficulties and distractions have not received the word with an upright heart (Mark 4:13-20).
When we harden our hearts instead of seeking the Lord during difficult times in our lives, we neglect our salvation.
Dr. Joseph Mattera is an internationally renowned author, consultant, and theologian whose mission is to influence leaders who influence culture. He is the founding pastor of Resurrection Church and leads several organizations, including the US Coalition of Apostolic Leaders and the Christ Covenant Coalition.
To order his books or to join the thousands of subscribers to his newsletter, go to josephmattera.org
Free

Religious Freedom Updates

Join thousands of others to get the FREEDOM POST free newsletter, sent twice a week by The Christian Post.