Estimated reading time: 5-6 minutes
SALT LAKE CITY — A fire has engulfed an apartment complex under construction in Sugar House. Hundreds of Sugar House residents who were forced out of their homes early Wednesday morning as smoke still hung over their heads.
This fire was massive, sending flames 50 to 100 feet into the air.
Even after 6 p.m. Wednesday, it was still a very active scene.
The fire department planned to begin demolishing parts of the burnt-out structure on Wednesday evening, as they feared it could collapse.
More than 1,000 people were evacuated according to the Salt Lake City Fire Department.
Residents like Emily Woods took what they needed for the day.
"I stopped at home and grabbed the essentials. Hopefully I can get home tonight," Woods said. "I was supposed to have a shift today and couldn't go to work because I was in my pajamas, evacuated."
Red Cross staff and volunteers say they are ready to help if needed.
"That's what we're doing, isn't it? We're giving up everything so we can help those affected," said Mackenzie Jones, Red Cross disaster program manager.
Jones said people who can't return to Sugarmont and other nearby apartments would have space, along with snacks and meals.
Dozens of people sought refuge at the Forest Dale golf course clubhouse overnight until the early hours of Wednesday because they had no friends or family to stay with.
The evacuees were then moved to the stake building of The Church of Jesus Christ of Latter-day Saints at 2005 S. 900 East, not far from the fire.
On Wednesday afternoon, people were coming and going as they imagined the next steps.
"(It was) a long night, but it's okay now," said Ana Wujkowska, an evacuated resident.
She and her daughter are among many people trying to be ready for what they have to do.
"We could come back if we're not facing the burning building, but it really depends on how it goes, but it hasn't been good since morning," said fellow evacuee resident CJ.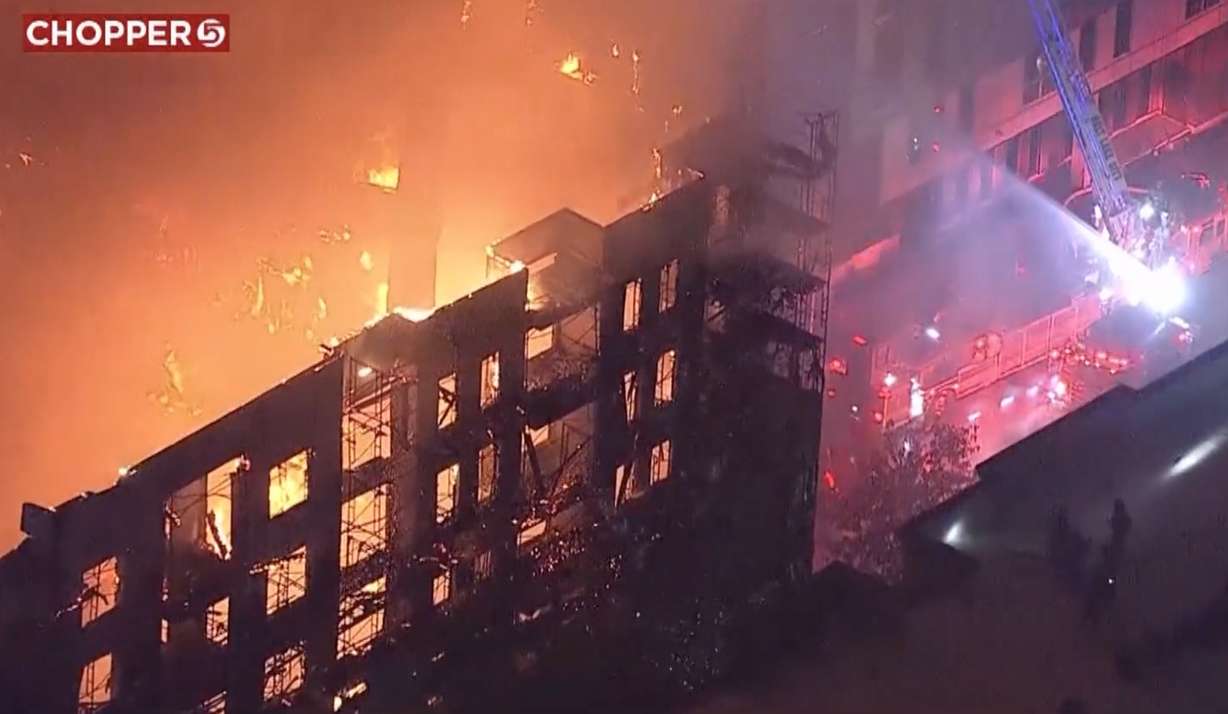 Kevin Turner and her husband were sitting at a table, calling her home for the day. He had received an email from his The Vue apartment complex in Sugar House Crossing a few hours earlier. The email explained that residents should collect their belongings from their apartment as soon as possible, but could not yet return home permanently.
"We still don't have power and they won't let any cars in or out of the building," Turner said as he read the email on his phone. The couple's apartment faces the building that caught fire. Turner snapped a photo just before they left, getting a glimpse of where the fire may have started.
"It's on the fourth floor, I guess," Turner said, looking at the photo on her phone. The photo showed flames coming out of the fourth or fifth floor, near the corner of the building. "And you can see pretty quickly, even in this photo, that it's going pretty fast."
Turner explained that they had about 60 seconds to get out after a security guard came knocking on their door yelling at them to evacuate.
Justin Gutzwa, who also lives at The Vue, didn't even have time to type anything.
"I had what I'm wearing now. Except my pants were onside down because I was in such a rush," he said. Gutzwa, not realizing he was going to evacuate for the night, also wore flip flops.
As the massive fire raged outside, others like Scot Myers and Juliana Massey, who live in the Sugarmont Apartments and Townhomes complex, sought refuge after hearing alarms throughout the building.
"We kind of grabbed what we could and rushed in," Massey said.
A sleepless night at Forest Dale Evacuation Center turned into an anxious day at the church building and Red Cross shelter.
"It was chaos, so we haven't had too much time to plan yet," Myers said. Massey continued, "I think we're still waiting to see what happens because, I know the other apartment complex, they let people in."
The couple didn't know where they would spend the night with their dog, Dolly.
Gutzwa went ahead and booked a hotel through renters insurance.
Many of these evacuees have recently moved to Utah with no resources to rely on otherwise.
"We just moved here to Salt Lake, so we don't have roots in the area, we don't have a lot of contacts," Turner explained. "So figuring out how to do a lot of things would be a lot harder to do without the help of the American Red Cross and the LDS Church."
Many were able to return home to Sugarmont and The Vue on Wednesday evening, as the Salt Lake City Fire Department said some units at both complexes would remain evacuated due to demolition and continued firefighting operations. .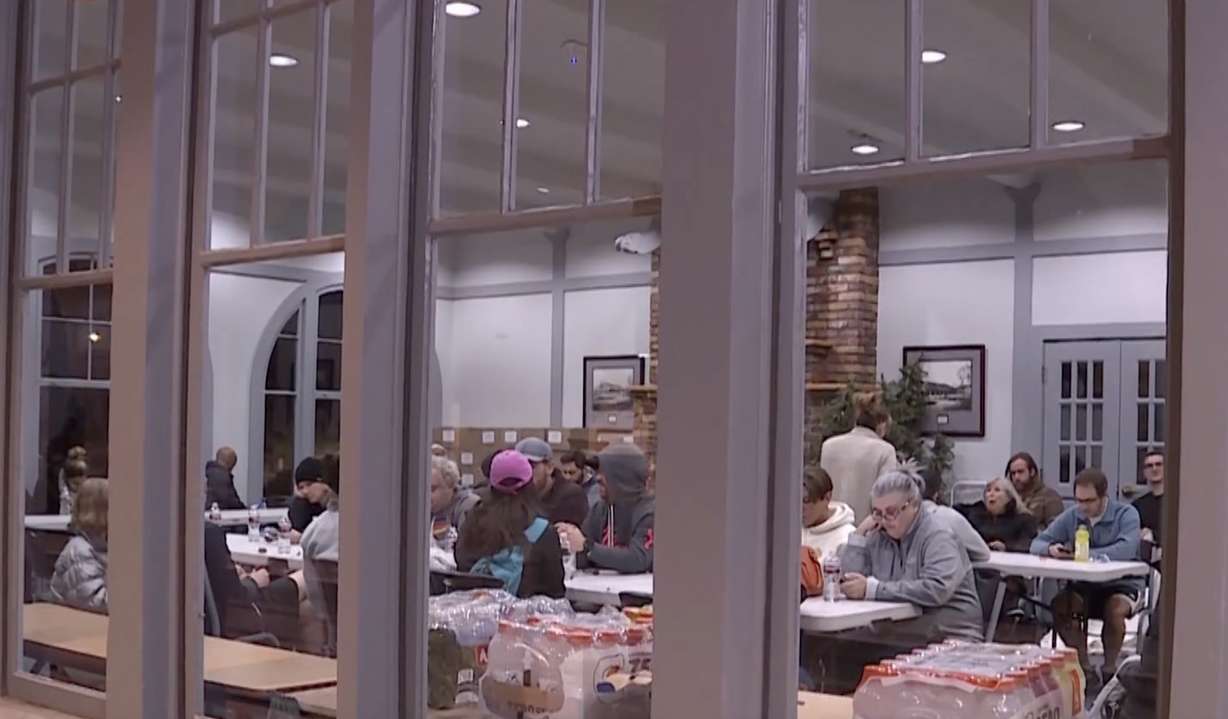 "Be as prepared as possible"
The Red Cross set up beds on Wednesday evening, but no one had arrived to stay there.
The Red Cross says donations are a big part of helping them do all of this – along with several other organizations that are also helping, such as the Salvation Army which provides food and the Church of Jesus Christ of the Latter Day Saints with its buildings.
Preparation is what helped them react so quickly after it all erupted last night. And donations, in large part, make that possible.
"When we're not in an operation like this, we certainly strive to be as prepared as possible for events like this so that we can act as quickly as possible," Jones said.
The evacuees expressed that they were grateful that no one was injured in the fire and that it only destroyed the unoccupied compound.
They also thanked the organizations that supported them throughout the night and the next day.
"I just want to thank everyone from the UTA, the Red Cross, the church here who put us up, the golf course, all the emergency responders," Gutzwa said. "Everyone has been really, incredibly kind, supportive and understanding during this bizarre and bizarre experience which unfortunately is impacting so many of our communities."
Contributor: Matt Brooks, KSL.com
×
Pictures
Utah's Latest Stories
More stories that might interest you